The history of the bank is also the history of the way it serves its customers. The relationships forged with individual customers are constantly evolving, in line with social changes and technological advances
The golden age of the counter
Since the 1880s, cashier services, safekeeping, securities management, and loans to individuals, the majority of operations are handled at the counter. Customers waited for their turn and presented themselves standing, leaning on an employee seated on the other side. This practice continued until the middle of the 20th century.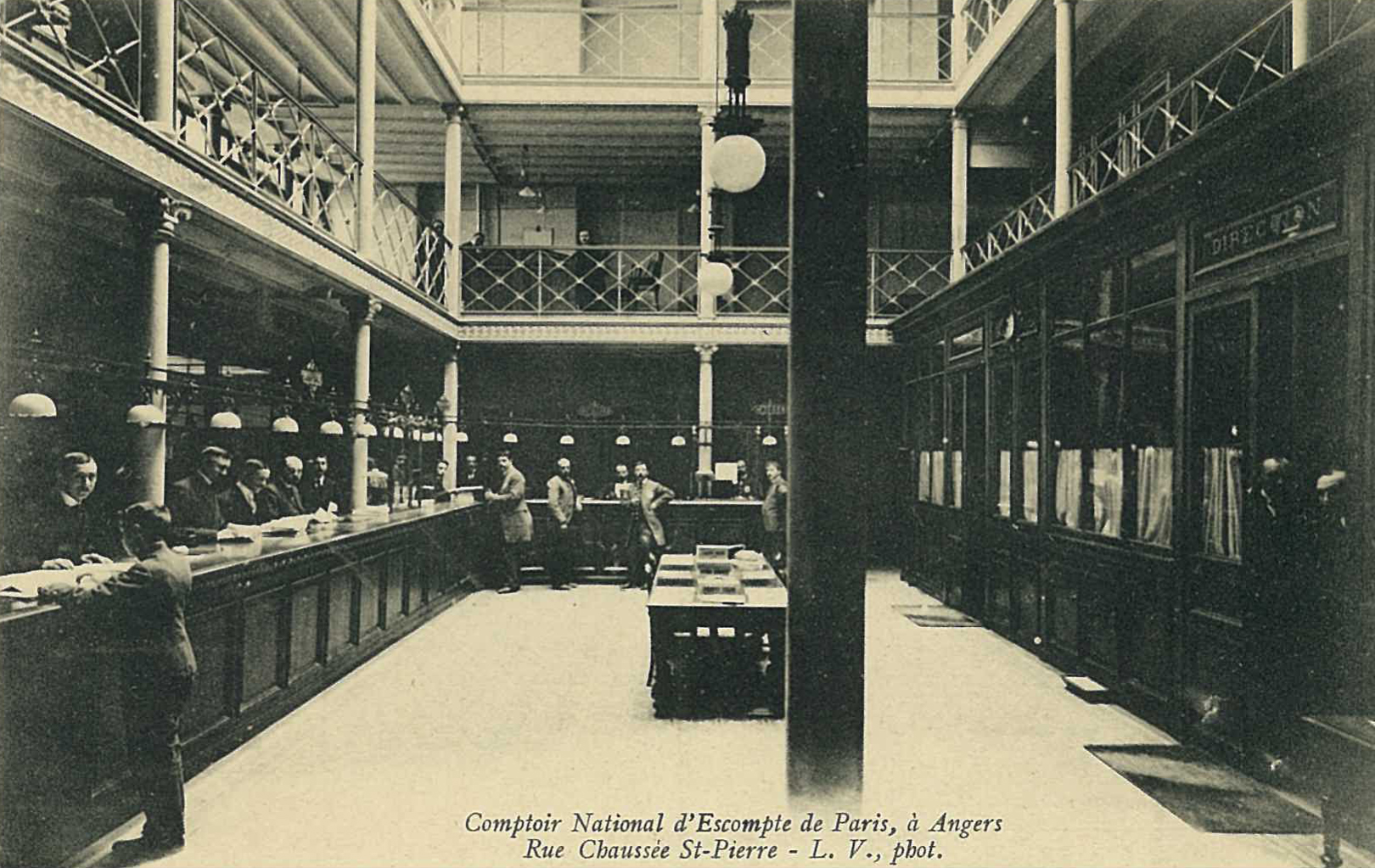 Although it is still relevant a century later, the counter has been transformed and multiplied (5,400 branches in France in 1967, 20,500 in 1981 and 25,500 in 1991). France became the country with the densest banking network, with one branch for every 1500 inhabitants.
Banking sitting down, banking outside
A network that is changing
In the 1960s, the Banque Nationale pour le Commerce et l'Industrie (BNCI) modernized its network. The objective? To respond better to the needs of the client and to offer him greater comfort.
This involves a total transformation of the interior decoration of the branches. Light-colored wall and floor coverings are replacing wood, and neon lighting is replacing the old brass fixtures. Counters and wire mesh walls are replaced by desks and chairs. Similarly, the facades were modified to open large windows and offer more light to the agencies.
In addition, between 1950 and 1965, BNCI strengthened its presence in and around the capital. The number of its branches increased from 33 to 80. This movement was amplified from 1967 onwards with the abolition of the regulations relating to the opening of branches.
New branches were opened in Antony, Chatenay-Malabry, Epinay-les-Cygne d'Enghien, Saint-Ouen, Villetaneuse and Créteil in the suburbs of Paris, and in the Latin Quarter, Boulevard Exelmans and Cité des Arts in Paris.
Technological progress at the service of the customer
The banking sector is a reflection of social and technological change. Between 1960 and 1980, telecommunications, computers and television underwent major development: telephone networks were extended and computers multiplied.
After the mechanization of administrative tasks, computers became an integral part of the bank's organization. At the end of the 1960s, advances in information technology redefined the bank's relationship with its customers: Banque Nationale de Paris (BNP) rapidly expanded its fleet of ATMs and later automated teller machines (ATMs), which played an essential role in its strategy of promoting service banking. Initially simple cash machines, ATMs have become attractive services for customers, allowing them to carry out their day-to-day transactions without having to open a branch.
Information technology allowing customers to manage their day-to-day operations…
BNP's "Service B" service includes the ability to check account balances and the history of the last ten transactions, and to make cash deposits or transfers from one account to another. To complement the ATM system, BNP created a personalized bank card called the "Service B" bronze card, which allows cardholders to take advantage of a specific range of services at its ATMs. At the end of November 1983, BNP distributed more than 10,000 copies of its new card.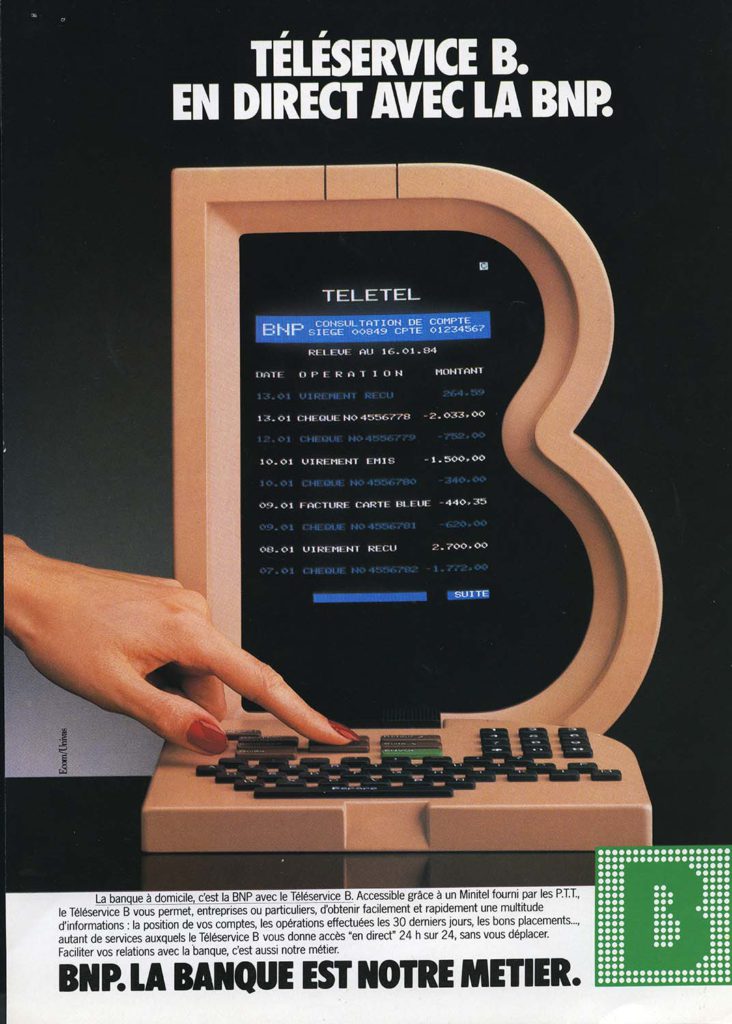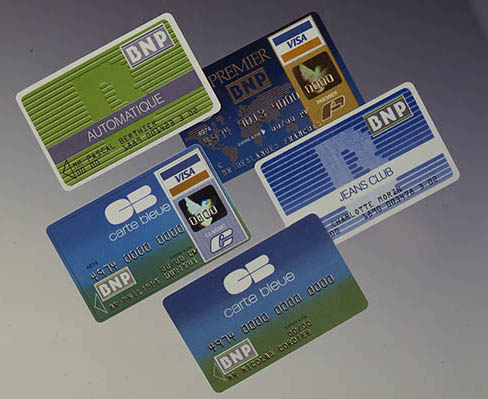 In 1970, the bank opened a banking information center at 49 avenue des Champs Elysées. For the first time, visitors were able to consult a Honeywell-Bull computer terminal to obtain information on real estate financing.
From then on, the bank can focus on advice and credit, freeing up branch staff from the day-to-day management of current operations, and customers are received by appointment in adapted and more comfortable spaces.
In 1982, the bank began testing three new services via Minitel with 500 customers. The first, "La BNP vous informe", offered a range of 25 products (credit cards, home savings plans), as well as practical information (branch hours, etc.). The second, "Distray yourself with BNP", tells the history of the bank over the years and can be used as a promotional tool in branches equipped with 3615 BNPTEL. And the last one, "Téléservice B", allows private individuals to order a checkbook or foreign currency free of charge, or to receive messages from their home branch, or to manage their cash flow in real time for their business customers.
… to telematics, with the introduction of Minitel
Telematics represents a new stage, with the development of Minitel and in 1982, the first Minitel terminals are offered to the public. BNP also invested in telematics and integrated it into its marketing strategy.
Cetelem, for its part, decided to experiment with it in stores : store employees had to be trained, starting with the use of the keyboard. But the benefits were clear, both for Cetelem and for the sales staff, since the customers of these stores could obtain an answer to a credit request in a few minutes – and thus buy in the process. In 1984, 3,000 merchants were connected to Cetelem via Minitel.
At the time, BNP, along with Crédit Agricole, was investing more and more in this area. Growth was spectacular: 15,000 subscribers in 1984, 225,000 by the end of 1989. This new sales channel enabled BNP to relieve its branches of day-to-day banking operations (transfer orders, etc.) and to improve its customer service.
Banking home, banking everywhere
Banking arrives in homes
Thanks to the Minitel, BNP builds customer loyalty and improves the quality of service in its branches, which are now free of queues, since the bank can be consulted from home. With 3616 BNPTEL, customers can quickly and efficiently find a solution to their needs.
In 1994, BNP offered to individuals the opportunity to subscribe to the Panorama service, which could be accessed by Minitel or by telephone. This service allows customers to manage their accounts directly, consult their assets, place stock market orders, and obtain economic news from home. Customers have adopted the Minitel on a large scale. Soon, the World Wide Web will take over. But remote banking is already a reality.
Creating remote banking
In 1994, Paribas launched Banque directe, the first French bank without a branch, offering its services 24/7 by telephone, fax, mail or Minitel.
In April 1997, BNP launched its remote Internet banking service, BNP Net. In its initial version, BNP Net enabled individual and business customers to check the balances of their various accounts, obtain statements of their various transactions and details of their bank card invoices, make internal transfers, and also consult their securities portfolio. At a time when the French are still using Minitel, BNP is the first French bank to use the Internet.
Following the merger between BNP and Paribas in 2000, the bank quickly established its Internet strategy. BNP Net has become the new bank's flagship product: the site has more than 750,000 subscribers and the advertising campaigns have been well received. New solutions were gradually added to the site, including access to the Frankfurt, London and New York stock exchanges and the possibility of making permanent transfers. These developments illustrate BNP Paribas' historic desire to be at the forefront of electronic banking.
In 2006, BNP Paribas' remote banking portal, Bnpparibas.net, passed the one million monthly user mark (vs. 300,000 per month in 2003). In just four years, the site has taken off and become the single point of entry to the web for the Group's clients. Although access to BNP Net and Bnpparibas.net used to be subject to a fee, in 2006 the Bank adapted to the market and introduced free access to its online accounts. Only transactional operations – transfers, stop payments, stock market operations – were charged.
A bank in step with the times and its customers
The widespread use of mobile devices, first phones and then tablets, has further changed the way things are done. In 2009, the BNP Paribas Group was the first player in the sector to offer bank account management from a smartphone. In 2013, it launched Hello bank!, an online bank totally designed for mobility.
The irreplaceable local bank now coexists with a booming remote bank: it is the customer who chooses, at any given moment, the level of service he or she needs.
BNP Paribas, the bank for a changing world for its clients
Operating in 68 countries, BNP Paribas is experiencing other patterns of change in its customer relationships. Less industrialized regions have made real leaps in development and are now at the forefront of banking innovation: the latest technologies are available, such as the biometric fingerprint payment card. This rapid transformation is illustrated in the banking sector where new technologies facilitate financial transactions and compensate for a lack of infrastructure.
Africa – from cash to mobile phones
Africa is often referred to as the "Leapfrog" continent. This refers to African countries' ability to bypass certain stages of development and offer the latest technologies straight away. BNP Paribas is actively contributing to this development.
In June 2014, the Group entered into a partnership with Orange to open new mobile bank services via Orange Money, a money transfer tool launched in 2009. This system allows customers at the BICICI (Banque Internationale pour le Commerce et l'Industrie – Ivory Coast), a subsidiary of the BNP Paribas Group in the Ivory Coast, to conduct "real time" bank operations, i.e. pay water and electricity bills, buy call credit. Using a mobile telephone, the procedure is simple. This service should be extended to other countries in which BNP Paribas and Orange operate, starting with Senegal.
In Africa, the mobile telephone has become an important means of payment. Start-ups compete with each other to devise new ways of banking, developing applications that will gradually replace cash payments. In Kenya, M-Pesa has been adopted on a massive scale to pay everyday bills. SimplePay and its payment system via smartphone has become widespread in Nigeria where automatic cash dispensers are very rare. South Africa is starting to use SnapScan and its contactless payment solution, used by street vendors.
Turkey – banks with a long view
Turkey, an emerging power in the Euro-Mediterranean region, has also made a leap in its development. The urban population has more than tripled in sixty years, in a country where agriculture and industry have long dominated, well ahead of services. Economic openness is being implemented thanks to free trade agreements. Over the last decade, the range of banking services has improved with the development of branches and automatic teller machines (ATMs), and Turkey adopted contactless payment far sooner than France which, admittedly, is well equipped with classic payment cards.
TEB, BNP Paribas' joint venture in Turkey, invests in the development of new banking technologies. It is the world's first bank to offer cardless cash withdrawal in its ATM network via its CEPTETEB application and QR code technology which can be downloaded to a smartphone for free.
TEB makes the most of all aspects of innovation. In January 2014, it launched an application specially designed for Google Glass. Customers with bank accounts at TEB can put on glasses to find the nearest automatic cash dispensers and get directions to them. The application also allows them to contact the bank's Customer Services by video conference.
The relationship between the bank and its customers has evolved steadily over the years. In the space of 150 years, we have gone from the stuffy ceremonial of customers meeting with their bankers in the privacy of an office to the "à la carte" paperless bank that can be consulted and managed according to their needs, whenever and wherever they want.
These revolutions have responded, on the one hand, to the bank's need to broaden its customer base, by getting closer to its customers' needs and offering increasingly personalized service. On the other hand, thanks to constant technological evolutions, the bank is constantly accelerating its own approach to customer relations and thus differentiating itself from its competitors.