BNP Paribas was created on 23 May 2000 with the ambition of forming a European banking group capable of meeting the challenges of digitisation and a rapidly changing world.
A historic stock market battle
Michel Pébereau had a vision of building a competitive European banking force. He approached several French banks in succession with a view to joining forces with them, but his arguments failed to win over his potential partners. In 1999, when the proposed merger of Société Générale and Paribas was announced, he seized the opportunity to launch a bold takeover bid – a first in France – which took the Paris stock exchange by surprise. In what he called the "SBP project", BNP simultaneously launched unsolicited bids on Société Générale and Paribas based on share exchange offers. After a six-month battle, BNP took control of Paribas. However, the central bank (Banque de France) refused to allow BNP to take a majority stake in Société Générale.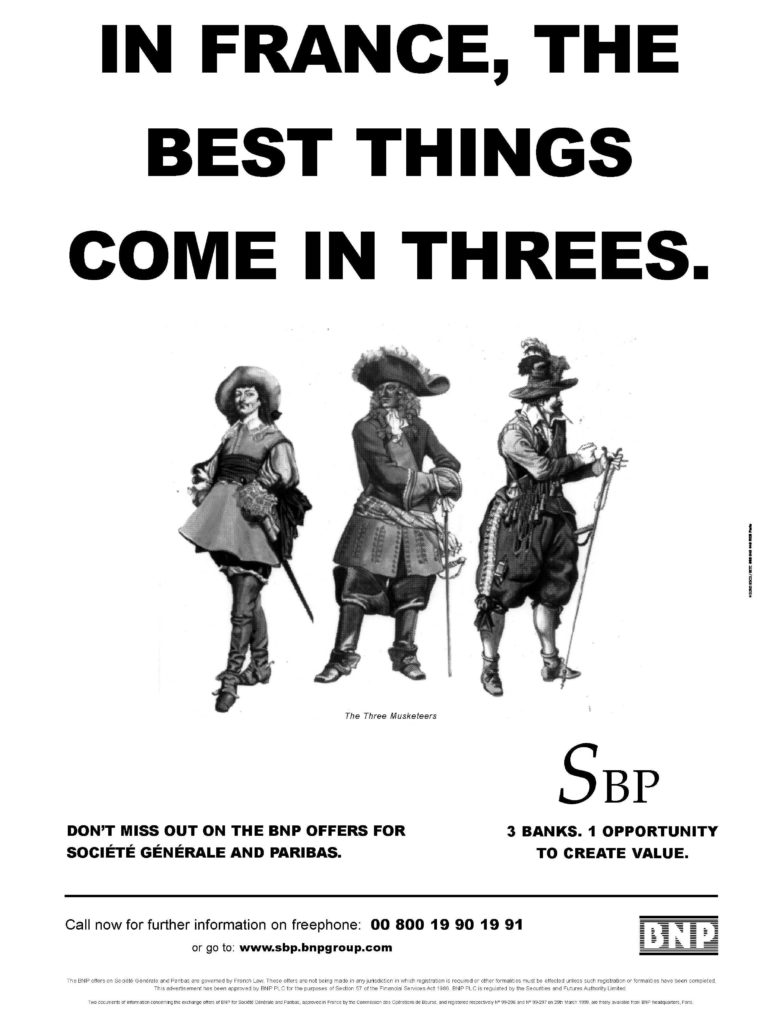 BNP Paribas: a successful merger
The period following BNP's offensive saw the gradual formation of a leader in the European banking sector. The harmonious and balanced integration of the staff employed by the two constituent banks ensured consistent management, and the best systems and services of each bank were retained. The creation of the BNP Paribas brand, capitalising on both traditions, with a new logo, and a new brand slogan – "The bank for a changing world" – established a strong international profile. Governance evolved until the positions of Chairman and Chief Executive Officer were separated in 2003, with remarkable stability.
A cautious acquisition strategy
The bank's Management was wary of new acquisitions at any price and waited patiently to find the right partners and develop a balanced business model. Multiple takeovers, notably under the aegis of Baudouin-Prot after his appointment as Deputy Director in 2003, marked a change in the size of the Group. The most recent deals have been overseen by a new Management team: Jean-Laurent Bonnafé was appointed Chief Executive Officer of the Group in 2011 and Jean Lemierre, former Chairman of the EBRD, became Chairman in 2014.
7 key dates for BNP Paribas acquisitions
2001: BNP Paribas purchases all the share capital in its US subsidiary Bank of the West, operating in the western United States and Hawaii
2002: Consors is absorbed by Cortal, bringing additional specialised financial expertise.
2009: the huge deal resulting in the acquisition of Fortis Bank in Belgium and its subsidiary BGL in Luxembourg added two more "domestic" markets to the Group.
2013: BNP Paribas launches Hello bank! a fully mobile digital bank in France, Germany and Belgium.
2014, BNP Paribas acquires Bank BGZ in Poland from Dutch bank Rabobank; that same year, in a major step for its development in Germany, it acquired digital broker DAB Bank AG; in France, it expanded its stake in LaSer, a major consumer credit player in France.
A Group with deep roots in a rich history

In the course of the 2000s, the Group's family tree grew with the arrival of new entities that brought their own history with them. The history of Fortis is the history of Belgian industrialisation. The Belgian subsidiary of the BNP Paribas Group grew out of Algemeene Nederlandsche Maatschappij, which was founded in 1822 by royal decree to promote industry before Belgium even became a country. It remained the national bank under the name Société Générale de Belgique after independence in 1830, and later absorbed Compagnie Générale d'Epargne et de Retraite (CGER), founded in 1865.

Banque Générale du Luxembourg, created in 1919 by Société Générale de Belgique, added its own chapter, telling the story of the development of financial services in the Grand Duchy.

BNL, founded in Rome in 1913, has always been a key partner in the Italian economy, and its renowned expertise in financing the Italian film industry dates back to 1935.

Bank of the West came to the American West in 1874 and First Hawaiian Bank began offering its services in 1856. TEB, the pioneering private bank in Turkey, is the descendant of a regional bank established in 1927.

BGZ, the last bank to join the Group, financed the Food & Beverage sector in Poland from 1919.

Faced with many changes in the global economic environment, the Group has demonstrated that the integration of different histories and cultures within a single entity can be a significant advantage in helping to creatively meet the challenges of funding the economy and meeting customer needs in the 21st century

You may also read…