Long before it established its countrywide network in France, the Comptoir d'Escompte de Paris (CEP) opened an office in China. For more than a century and a half, the various banks that preceded the Group were able to cope with the tribulations that punctuated modern history in China. But their presence, in various forms, also demonstrated that they understood the country's enormous potential and were able to build lasting economic and financial relationships.
End of the 1950′: return to China, stepping up relations in view of the Chinese revival
From the end of the 1950s, relying on Hong Kong as its spearhead in Asia, the Group was methodically able to build a solid network in China, which is one of the leading world powers today.
Under the initiative of General de Gaulle, France became the first Western nation to establish diplomatic ties with China in January 1964. Preserved from Chinese communist expansion, Hong Kong which became a British colony after the First Opium War and a refuge for numerous Shanghai industrials, was set to become the Group's regional platform in Asia.
A few years earlier, in 1958, Banque Nationale pour le Commerce et l'Industrie (BNCI, a forerunner of BNP) opened in Hong Kong, with a representative office staffed by 3 people. In 1959, having grown into a branch, its momentum would turn it into a leading institution. BNP, formed by the merger of CNEP and BNCI in 1966, capitalised on this heritage: by 1972, the bank employed nearly 300 people, in 7 branches.
At the same time, in 1959, Banque Belge pour l'Etranger – BBE (Fortis) opened a branch in Monkong, followed by Tsuen Wan (Kowloon Peninsula, British since the Second Opium War) in 1963. In 1972, it had to close its inactive offices in Tientsin and Shanghai, but in the same year opened a financial subsidiary, Wa Pei Finance Co. Ltd, in Hong Kong. 1972 was a challenging year for most of the world's financial centres, which allowed Hong Kong to rise to new heights. BBE continued to grow steadily: from 8 branches in 1974, to 13 in 1979, with 500 employees.
In 1980, BNP became the leading European bank in Hong Kong. The British colony was the front runner of BNP's expansion in the People's Republic of China. The strategy, which responded to the Chinese authorities' desire to open up their economy, was based on the Group's solid position in the region, and consisted of covering the entire country, with offices in all the main economic centres. The Chinese network was built with patience since the beginning of the 1980s.
Initially it relied on three representative offices: one in Beijing (1980), a liaison office in Canton (1980), and the third in Shanghai, resorting under Beijing (1983), whereby BNP became the first Western bank established in the People's Republic of China. The network extended with the opening of an office in Shenzhen, a Special Economic Zone bordering Hong Kong.
From the 1980′, a definitive presence
In 1984, at the invitation of Bank of China, BNP CEO René Thomas paid his first visit to Shenzhen. The French bank, which initiated the first negotiations for the signing of buyer loan agreements with Bank of China, now wanted to develop its relations and consolidate its presence.
In 1988, BNP therefore joined forces with Agricultural Bank of China (a network of 44,000 branches with a staff of 420,000 people), and in 1993 with Industrial and Commercial Bank of China (ICBC), the largest commercial bank in mainland China, with a network of 26,000 branches and 600,000 employees, thereby giving birth to International Bank of Paris and Shanghai (IBPS). This put the BNP Group in a prime position to participate in development and extension projects in Shanghai, operating in the local currency, Renminbi. The strategy was completed with the opening of three branches (in Shenzhen, Tianjin and Canton), and 3 representative offices (in Beijing, Tianjun and Chengdu, the capital of Sichuan).
At the same time, BNP Hong Kong diversified its business to meet extensive regional needs, particularly those related to the resurgence of China. Besides its two powerful commercial divisions, which were particularly active in trading, the group had a division specialising in the funding of large-scale projects such as the Daya Bay nuclear power plant (funding of the first instalment in 1986, and the second in 1995, which represented the longest export credit yet executed with China, over a period of 22 years), or the establishment of Peugeot in China; it was also very active in boat and aircraft financing. This involvement enabled BNP in 1992 to rise to the top ranks of syndicated loan arrangers for China.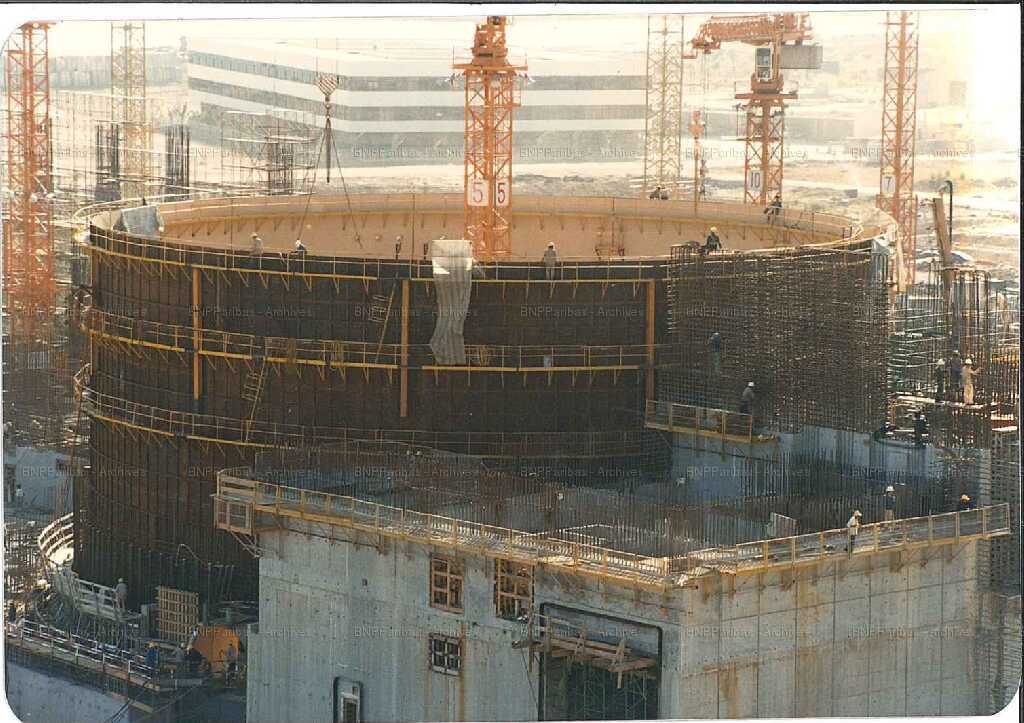 Already in 1993, BNP enjoyed an enviable position in Hong Kong: the leading French and European bank was also the largest BNP entity in Asia-Oceania, with 6 branches, 750 employees, 7,500 corporate customers, and 10,000 individual customers. With its subsidiary BNP IFS, it specialised in wealth management, as well as securities financing thanks to BNP International Financial Services, founded in 1985 as a subsidiary of BNP. To complete its strategy, the entity also acquired a head office in the Hong Kong stock market, BNP Securities HK Limited. In 1998, the bank took over Peregrine, one of the leading brokers that was firmly established in continental China, and renamed it BNP Prime Peregrine the following year. It ranked first among share issuers for institutional players in China and Hong Kong.
Paribas in turn set up a regional platform in Singapore, making the city-state its play field for Chinese Asia, and placing its strategic bets on the future of Shanghai. In 1997, it opened a branch there. Three years later, BNP and Paribas merged.
Since 2000, partnerships' acceleration and intensification
China's integration into the world economy started to accelerate in December 2001 when it entered the World Trade Organization (WTO), thus continuing the process of liberation launched by Beijing at the end of the 1970s. For the Group that saw China as one of the keys to its development in China, this was an opportunity to expand its presence by leaning on local partners.
The external growth strategy took the form of setting up joint ventures. In 2006, the group launched BNP Paribas Private Banking, and in 2008 BNP Paribas (China) Limited signed a joint venture with Bank of Nanjing with a 12.6% share. For its part, BNP Paribas Personal Finance signed a joint venture with Geely Automobile in 2013, with the aim to develop a car financing business in China, and in 2014 took a 15% share in another joint venture with Suning (the largest household appliance distributor in China) and Bank of Nanjing, dedicated to consumer credit at points of sale and online loans.
In 2014, BNP Paribas is designated as a primary liquidity provider for the offshore Renminbi market in Hong Kong, by the Hong Kong Monetary Authority (HKMA). It plays a pivotal role in the new era of China's growth story.
Today, the BNP Paribas Group is firmly established in China, with nearly 700 employees, doing business in wealth management, insurance, consumer credit, institutional investments and corporate finance.
---