Starting in 1862, Comptoir d'escompte de Paris (CEP), BNP Paribas forerunners, strove to carve out a position in Hong Kong at a time when the British dominated the Asian market. Société générale de Banque (Fortis), Banque nationale pour le commerce et l'industrie (BNCI) and Paribas did the same in the first half of the 20th century and constantly increased their presence on the continent. Let's look at the group's expansion in Hong Kong, Asia Pacific's central economic market.
BNP and Fortis: powering up in the 1980s
China entered a phase of strong economic growth in the 1980s that naturally benefited Hong Kong. The territory was more than ever an attractive centre for banks. BNP was the first French bank in Hong Kong in 1980 and in that year opened a representation in Beijing to be more active in the phase of Hong Kong's financial integration in China. BNP became the leading European bank in the territory in 1993 with six branches, 750 staff members and 17,500 clients, including 7,500 companies.
In 1998, it acquired a leading broker, Peregrine, with a strong presence in mainland China. The group was rebranded BNP Prime Peregrine the following year and was a leading share issuer for Chinese and Hong Kong institutional actors.
Banque Belge pour l'Etranger continued to have a strong presence in 1980, changing its name to Belgian Bank before adopting the official name of Générale de Banque Belge pour l'Etranger in 1985. By 1990 there were twenty agencies. In 1994, Générale de Banque opened an agency with a trading floor to develop its treasury business. A subsidiary was established a year later with Guangdong Development Bank as Générale Bank Asia Ltd., specialising in portfolio management and stock market operations. In 1996, Générale de Banque Belge pour l'Etranger generated 12% of the profits posted by Générale de Banque.
After the birth of Fortis Banque in 1998, Hong Kong operations were transferred to a new company, Fortis Bank Asia HK. In 2003, Fortis group forged an alliance with the Hong Kong subsidiary of China's biggest bank, Commercial Bank of China Asia (ICBC Asia). Fortis acquired a 9% stake in ICBC Asia before selling its shares in 2007.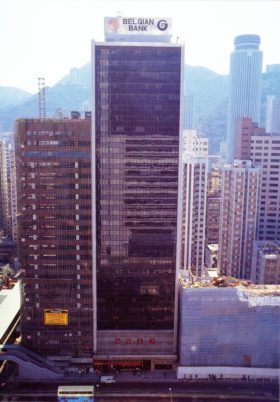 BNP Paribas in Hong Kong today
Paribas also bolstered its position at the start of the 1980s. In 1981, it established the Paribas Asia Ltd. merchant bank. However, the 1981 recession compelled it to focus on large corporations and public utilities and Chinese companies. The emphasis was on asset management, market products aimed at Asian clients and the industrial sector, which made its activities very complementary with those of BNP.
The BNP-Paribas merger in 2000 ushered in a powerful banking group. BNP Paribas Hong Kong is now what can only be described as a regional platform, boasting 2,000 employees and a broad range of financial activities. Its know-how, size and the scale of the market give it a special role within the group.
---
---